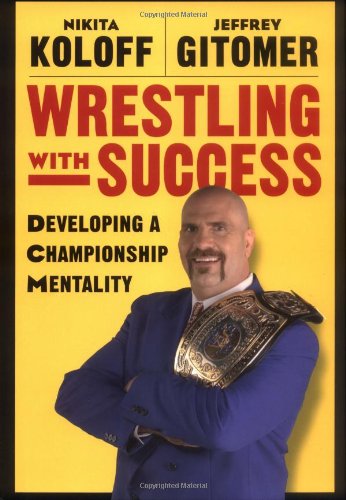 Wrestling with Success: Developing a Championship Mentality *AUTOGRAPHED BY JEFFREY GITOMER AND NIKITA KOLOFF
From the Inside Flap
Who's your most dangerous opponent in the quest for success? You. But don't worry, former World Heavyweight Wrestling Champion Nikita Koloff is in your corner. He's here to coach you, hold-by-hold, through the toughest match of your life, and to make sure that you come out on top.
You don't have to be a wrestler to succeed, but you do have to wrestle–with your self-discipline and desires, with your passions and attitude, with your beliefs and spirituality. Nikita shows you how.
This book is not about professional wrestling–it's way better than that! Sure, there are plenty of behind-the-scenes stories from the wild, surreal world of pro wrestling, but Nikita shows you how you can learn from these stories and examples and use them to build your own success.
He shows you how to:
Set goals that you can achieve
Develop mental toughness
Use your emotional sensitivity the right way
Take smart risks
Make your success a predetermined outcome
And a whole lot more
In case you're not willing to take just his word for it, Nikita presents the personal stories of other high achievers to help you attain your ultimate success, no matter how you define it. He shares the ring with his good friend Jeffrey Gitomer, who gives you thebenefit of the insights and principles that have made him one of the world's top salesmen.
Make no mistake, your life is a championship match, and you are both the challenger and the challenged. But here's the cool part: If you work hard, follow the step-by-step lessons you'll learn in Wrestling with Success, and keep your eyes on the prize–you'll win!
From the Back Cover
PRAISE FOR WRESTLING WITH SUCCESS
"Whether you are looking to achieve in business, education, athletics, politics, or anything in life you have to have a championship mentality. Nikita knows this well and guides you every step of the way to achieving your goals."
–– Governor Jesse Ventura
"If anyone knows about developing a championship mentality, it is Nikita Koloff. From a hardscrabble beginning to main events around the world and capturing four world championships along the way, Nikita's will and determination is evident on every page. If you are looking for a title of your own, do not miss this book."
–– William Murdock
CEO, The Eblen Charities
"Wrestling with Success brings to light the importance of perseverance in the desire to achieve success in any walk of life. The principles listed by my friend Nikita Koloff will help anyone who has a yearning to reach their ultimate goals. The story of the 'squared circle' woven throughout the chapters is very interesting and tells how Nikita, against all odds, made it to the top."
–– Jack Countryman
Senior Vice President and Publisher
JCountryman Inspirational Gift Books
"This book is a double body slam! I know both these genuine champions. Put them to work for you!"
––Ty Boyd
Founder, Excellence in Speaking Institute